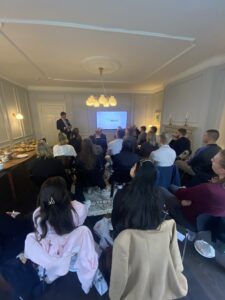 For many years FBCC has offered internships and other job opportunities for university students, including our current Marketing and Events Coordinator Johanna Tikkala who currently studies Politics, Philosophy, and Law at King's College London.
During the past year FBCC has hosted several networking events that are especially targeted towards Anglo-Nordic university students and young professionals, and recently in October, FBCC organised a company visit for a group of University students with Metsä Tissue.
The group of 24 students from the University of Vaasa, School of Business, were on an excursion trip to London with the aim of learning about the business world and career opportunities in the UK of both Finnish and British companies.
As a part of their visit, FBCC and Metsä Tissue hosted the students at the FBCC office on Thursday 5th October. The visit was led by Mika Paljakka, Metsä's Senior Vice President for the UK & and Ireland, and it gave the students the chance to hear about Metsä's activities and journey in the UK so far. They learned about the Metsä Future Mill investment program, including the new tissue paper mill planned by Metsä Tissue in Goole, East Riding of Yorkshire. At the end of the meeting, the students asked many insightful questions about Metsä's operations and career opportunities in the UK.
Thank you to the students for visiting us, and to Metsä and Mika Paljakka for hosting this meeting with us!