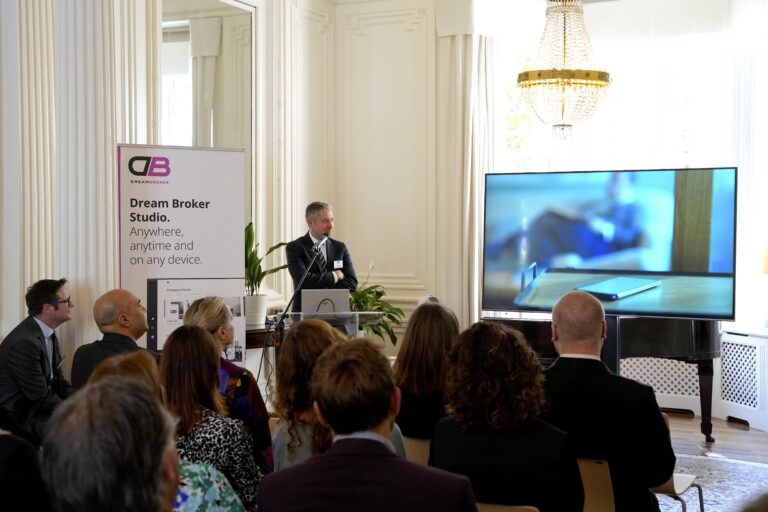 Dream Broker helps people and enterprises to communicate, collaborate and learn with online video. Anywhere, anytime and on any device. Today Dream Broker works with more than 1100 organizations in Europe and UK.
In collaboration with the Finnish Embassy, Dream Broker had the honour of organising an exclusive networking event at the residence of the Finnish Ambassador in Kensington Palace Gardens. A special thank you to HE Ambassador Jukka Siukosaari for having us, and to the 60+ invited guests who attended our event.
The event was an incredible afternoon of insights into revolutionising communication and leadership. One of the highlights of the evening was an inspiring keynote presentation given by our long-term customer, Niko Jakobsson, The Secretary General of the Finnish Bar Association. In his presentation, he provided concrete examples of how video can be used in training, engaging the entire organisation and streamlining processes in the legal sector.
The Association has found videos very effective for their internal communication, especially for hybrid work processes. With Dream Broker Studio, making videos is easy, secure, and accessible for everyone within your organisation.
During the event, Dream Broker also introduced a new software product to the audience, Dream Broker #One. With #One organisations can organise all video and audio meetings, phone calls, instant messages and all their needed documents with file sharing in a smart and cyber secure way. #One is the first cyber secure, all-in-one communication software solution from Europe that is GDPR compliant.