Tuesday, 21 November 6.00pm - 8.00pm King's College London Strand Campus, Somerset Room, London, WC2R 2LS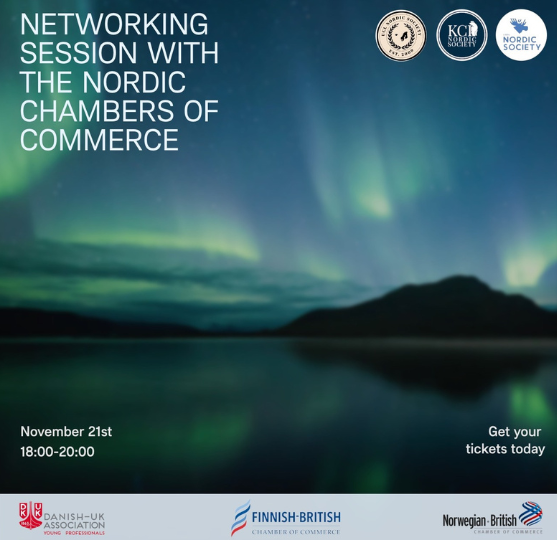 The Nordic Chambers of Commerce, in collaboration with the Nordic Societies from King's College London, University College London, and the London School of Economics, are thrilled to unveil an innovative partnership that promises to bridge the gap between professionals, recent-graduates, and Nordic students in London.
London is a hub of diverse talent, attracting Nordic students and young professionals eager to broaden their horizons and expand their networks. This exciting partnership is designed to empower early-career individuals. Over time, it aims to acquaint students and attendees with the Nordic Chambers' mission, showcasing the myriad of opportunities available and providing valuable insights into the professional landscape.
To kick-start the partnership, we are excited to announce a Networking Session that will bring together the Nordic Chambers and university societies. This lively gathering will take place at the prestigious King's College London venue, located along the iconic Strand in Central London.
This event is a must-attend for anyone looking to expand their network in a diverse environment, discover opportunities within the Nordic Chambers, gain valuable insights into the professional world, and connect with like-minded individuals and ambitious students.
The event will take place on Tuesday 21 November, 6-8pm in the Somerset Room at Strand Building.
Tickets are £5 and include drinks which will be provided at the event.
Cancellations are accepted up to 7 days before the event.